Congratulations
to
all
our
2018
Winners
 A Chance to Dance Scholarship Winners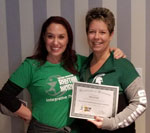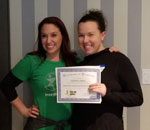 Amy Peters                Brianna Dowell           Courtney Garcia           Rhonda Moore           Ashley Deets
  Fort Wayne, IN              Elgin, IL                      Gilberts, IL                 Lisle, IL                     Chicago, IL
Scholarship Includes: 
 RHYTHM WORKS INTEGRATIVE DANCE INSTRUCTOR CERTIFICATION WORKSHOP
Available scholarships include partial and full-paid registrations to online or hybrid Rhythm Works Integrative Dance Instructor Certification Workshops. To learn  more about the Rhythm Works Integrative Dance Instructor Certification Workshops, please visit https://rhythmworksid.com/instructor-certification/
WINGMAN FOR DANCE MEMBERSHIP
The Wingman for Dance program.To learn more about the Wingman for Dance program, please visit: https://wingmanleague.org/wingman-dance/
Kick for Kindness Scholarship Winners
Winner
Vida Dance Company - Lindsey Dinneen of Leawood, Kansas
Non-Profit "Sister High Five" Winner
Magic Dance Arts- Chelsea Sioxson of San Jose California Full Scholarship as a high five of encouragement from fellow non-profits NDF and YPAD
Scholarship:Youth Protection Advocates in Dance (YPAD) Certification
YPAD's focus is on providing dance studios, conventions, competitions, instructors, dance professionals, parents, community members and dancers with the support, education, tools and resources they need to make healthy choices in the dance environment and the world. For more information on YPAD Certification please visit www.ypad4change.org/Certification
Dance Mob Winner
Perna Dance Studio Hazlet, NJ.  Each member won a pair of Pastry Dance Sneakers
Poster Contest Winner
Petra Tuzun
Essay Contest Winner
Why Everyone Should Have a Chance to Dance
 By Brook Baldwin
Everyone should have a chance to dance including people with special needs. I have been dancing since I was three years old. Dance is just something that is really fun to do and it lets you be free and express yourself. Not only is dance fun, but it is also a great way to exercise and develop your muscles.
 When I was three, I started dance with my current dance studio. The month before classes started the studio owner's 18 year old daughter was in a car accident that left her a quadriplegic. She had been born to dance, and having the studio in her home basement her whole life, it was her love and what she had always done. She had made the college dance team and was supposed to begin her first year of college just a few weeks after her accident. This sounds like a story with a tragic ending, but there is hope! Although her doctors gave her the news that she would never breathe unassisted along with never being able to move from the chest down, she didn't lose focus.  In fact, she became more determined than ever to prove the doctor's wrong. She fought, she came off the breathing tube and her family made accommodations in their home to bring her home and start their new journey. Part of their journey they always knew would include dance! She quickly began figuring out how to teach dance classes as she always had before by calling out steps that she choreographed to dancers. She continues to be an awarded choreographer at competitions and teaches clogging, tap, pre-pointe, and the competition teams. Dancers who take from her commonly point out how much better audible learners they are because of her!
 This year, I had the opportunity to go back to my elementary school with the Bailey Dance Company to let kids in the SAC program dance. I will never forget the look on their faces when we told them that we were going to dance with them. They were so excited and eager to learn. Watching them dance was one of the most beautiful and wonderful things I got to see. In dance, people are able to show their interpretation of a song and many times, it is a way for them to express their own creativity. I think that dance is a great opportunity and it allows special needs children, who may not have another way to express themselves be able to do that through dance.
             Everyone deserves the opportunity to reap the health benefits that dance offers. The website everydayhealth.com lists nine health benefits of dance. Studies have proven that these benefits are: dance boosts memory, improves flexibility, reduces stress, diminishes depression, helps your heart, helps you to lose weight, improves balance, increases energy, and helps you make more friends. This sounds like enough reason to me why everyone should have the chance to dance.
Special Thanks to all our participants.....Join in the fun for next season September 1st- March 31st