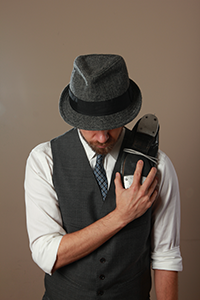 Gregg is an Emmy nominated choreographer and has worked with such stars as: Bette Midler, Gene Kelly, The Nicholas Brothers, Michael Jackson, Gregory Hines, Kenny Ortega. He directed a commercial for Carvel Ice Cream and has also performed with numerous music artists: Reba McEntire, Smashmouth, The B-52's, Jason Mraz.
Gregg's latest projects include dancing in a Volkswagon national commercial, performing on "Dancing with the Stars", and training ballroom star Derek Hough for an upcoming feature film. He has also performed and emceed Dance Halloween charity event with Jamie Lee Curtis, along with choreographing and dancing on the new TV show "Mobbed". He recently completed competing and making it to the semi-finals on the CBS TV show "Live to Dance" hosted by Paula Abdul. He currently is traveling and working on Co. Dance conventions ( www.codance.com), and writing for the dance publication, Dance Studio Life.
Future endeavors include choreographing and performing for various tap companies and festivals throughout the country, and producing a live stage show with his tap company, Tap Sounds Underground, opening in Los Angeles in 2013!